Travel Your Style With Adventures by Cyndi
For More Details
We know how important your travel style is. Your travel style says a lot about your personality and what makes you comfortable. To help avoid vacation-style disappointment, share your make-or-break requirements with your travel advisor.
---
All-Inclusive
All-Inclusive resorts are located in popular tropical destinations. Resorts vary from couples only to family friends.
---
Luxury
Luxury travel is all about being treated like the VIP you are. Unique destinations give priceless memories, and the price is no option.
---
Active & Adventure
Families are looking for quality time together in fun places that appeal to all family members. With grandparents being more active today, multigenerational trips, as a result, are a big hit. Theme parks, cruises, and all-inclusive resorts are top on their list.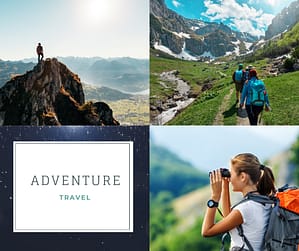 Adventure seekers enjoy engaging in activities with an actual or perceived danger while in nature, immersing themselves in new cultures. Therefore great for solo travelers to groups.
---
Honeymoon
Whether on land or sea, romance is essential to your honeymoon. Some choose to combine destination weddings at their honeymoon locations. Create your once-in-a-lifetime memories.
---
River & Ocean Cruising
River cruisers enjoy voyages along inland waterways found worldwide. Since cities and towns often grew up around rivers, river cruise ships frequently dock in the center of cities and towns. Hence, giving cruisers more time to visit multiple ports along their river journey.
Ocean Cruises travel worldwide to famous destinations with more extended time at sea. As a result, Ocean cruises have fewer ports of call. Therefore allowing for time to enjoy the many onboard activities.
---
Alaska
Alaska is spectacular year-round. With each season bringing new sights and adventures to be had. From wildlife viewing to hiking through ice caves. Not to mention the beauty of Northern Light season!
---
Rail
Some of the best ways to see the countryside are journeys on railroad trips. We work with the top rail trail supplies around the world.