Explore Madrid
Exploring Madrid certainly needs to be your next vacation. Madrid is home to some of the world's oldest restaurants. In fact, there is plenty of summer sunshine and heat, friendly locals happy to lend a hand, and hostels, inns, and hotels for all budgets. Excellent public services and walking areas make getting around the city fun and easy. Therefore Madrid is perfect for those looking for culture, history, and great eats.
Madrid Experiences
Discover Amazing Food
The meaning of Spanish Gastronomy by trying savory dishes, tapas, and sweets.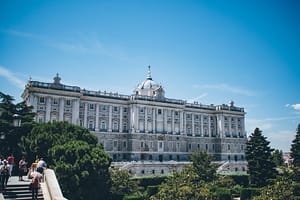 Explore Working History
The largest royal palace in Europe. One to the public for tours.
Experience Lasting Culture
The art of flamenco. UNESCO has recognized flamenco as part of the World's Intangible Cultural Heritage.
Request
Request Our Highlights of Spain and Morocco Guided Tour – "Mayflower cruises and tours."
Highlights of Spain and Morocco Guided Tour cities visited; Madrid, Cordoba, Seville, Ronda, Granada, Algeciras, Ceuta, Fez, Meknes, Marrakech, Casablanca, and Rabat.
Experience the charms of both Spain and Morocco in one trip. Explore Madrid's historic buildings and architecture, lined with frescoed buildings, cafes, and art. See the Medieval city of Cordoba, the Santa Cruz district in Seville, and former Moorish sites in Granada. Cross the Strait of Gibraltar by ferry to the African continent and marvel at multiple UNESCO World Heritage Sites, such as the great Old Town Medina in Fez and the walled, imperial city of Meknes. Explore lively streets and shop among local vendors in Marrakech, and end your adventure with two nights in the lively city of Casablanca.
Mapping Out Madrid
When is the best time to visit Madrid, Spain?
The best time to visit Madrid is in the fall (September to November) or spring (March to May), when balmy temps blow through the city, making it come alive. But if you don't mind drab weather and a rather quiet Madrid, visit in the winter when hotels reduce their rates. Use the below Madrid weather averages per month to assist your timing.
Madrid Weather Averages Per Month
January

TEMP: 33F – 51F | SUN:11 Hrs per day | RAIN: 42 mm per month | HUMIDITY: 72% avg | WIND: 6 mph avg
February

TEMP: 34F – 54F | SUN:10 Hrs per day | RAIN: 36 mm per month | HUMIDITY: 67% avg |WIND:7 Mph avg
March

TEMP: 39F – 61F SUN: 12 Hrs per day RAIN: 58 mm per month HUMIDITY: 62% avg WIND:7 Mph avg
April

TEMP: 43F – 65F SUN: 11 Hrs per day RAIN: 67 mm per month HUMIDITY: 62% avg WIND: 7 Mph avg
May

TEMP: 58F – 73F SUN: 12 Hrs per day RAIN: 34 mm month HUMIDITY: 52% avg WIND: 7 Mph avg
June

TEMP: 58F – 84F SUN: 12 Hrs per day RAIN: 25 mm per month HUMIDITY: 41% avg WIND: 7 Mph avg
July

TEMP: 63F – 91F SUN: 13 Hrs per day RAIN: 11 mm per month HUMIDITY: 31% avg WIND: 7 Mph avg
August

TEMP: 63F – 90F SUN: 13 Hrs per day RAIN: 9 mm per month HUMIDITY: 32% avg WIND: 6 Mph avg
September

TEMP: 56F – 81F SUN: 12 Hrs per day RAIN: 26 mm per month HUMIDITY: 43% avg WIND: 6 Mph avg
October

TEMP: 48F – 69F SUN: 12 Hrs per day RAIN: 58 mm per month HUMIDITY: 55% avg WIND: 6 Mph avg
November

TEMP: 40F – 58F SUN: 11 Hrs per day RAIN: 51 mm per month HUMIDITY: 69% avg WIND: 6 Mph avg
December

TEMP: 34F – 51F SUN: 11 Hrs per day RAIN: 45 mm per month HUMIDITY: 71% avg WIND: 6 Mph avg
Explore Madrid – The Heart of Madrid