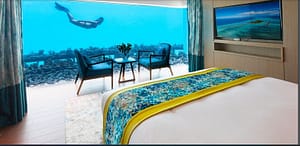 Welcome to Maldives (Haven N° 417424)
 Novelty Stay – Immersive 2BR Over & Underwater Bungalow Maldives
All you have to do is open your eyes each morning to see amazing marine life.  This Maldives immersive 2BR Over & Underwater Bungalow brings the sealife view right to the comfort of your bed.  This bungalow has an underwater bedroom with floor to ceiling glass view of the Indian Ocean.  Not feeling the underwater feel, there is also a bedroom over the water with a tranquil view of the Indian Ocean. 
Bedrooms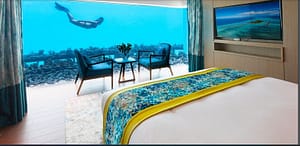 With one submerged bedroom beneath the turquoise
waters, be prepared to discover the magic of the ocean
while enjoying stylish comfort. These accommodations
styles are a true rarity in the Maldives, and we are excited to
deliver a uniquely immersive travel experience for this
destination.
Overwater Bedroom
Not only is there an aquarium as a bedroom – which
provides an open view of the underwater life, but there is
also, a second bedroom looking out across the ocean the
the moment you walk upstairs.
With an exclusive pool location facing East, it's the perfect
the spot to relax in the early hours with a private sunrise yoga
session or cool off with a dip. This haven is in a prime
position to watch the sunrise or, drink in hand, gaze at the
sunset, contemplate the fish, forget the world outside and
chill out on your deck or living room with unique views of the
Indian Ocean.
Features
Max occupancy: 2 adults & 2 children
Private Villa Amenities
209 m2 / 1,216 ft
2BR |  2 Bathrooms | Infinity Pool | Ocean View | Resort Community
One underwater bedroom
One overwater bedroom
Lounge and deck
Full minibar replenished twice daily
Complimentary two wine bottles
Selection of house pours
Sweet and savory delights
Coffee and tea facilities
Indoor and outdoor showers
Island bathtub
Property Highlights
This property fits up to 4 guests with two bedrooms and two bathrooms.
Inquire for more details
 Infinity Pool  Ocean View  Resort Community
 Resort Privileges
Available
 Water Sports Gear  TV(s)
 WiFi  Coffee Maker  Complimentary
Wine
 Housekeeping
Available
 Snorkeling  Internet
Price Available Upon Request
Please get in touch with us for availability
#Findyourhaven