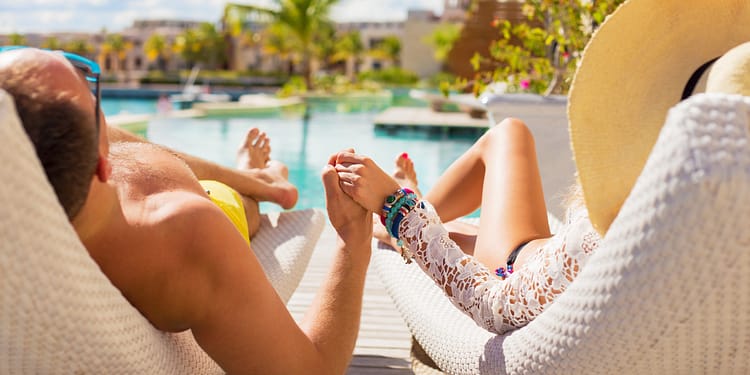 "Honeymoon Havens: Top Destinations to Explore During Hurricane Season"
Welcome, lovebirds, to a guide specially crafted for adventurous honeymooners! While hurricane season might not be the first thing that comes to mind when planning your dream getaway, it can still be a fantastic time to explore certain destinations. Embrace the unexpected and embark on an unforgettable journey with your partner. Cyndi Morgan, your friendly travel guide, presents a handpicked list of the best places to visit during hurricane season. Get ready to discover the magic!
1. Riviera Maya, Mexico:
The stunning Riviera Maya is ranked at the top of our list, known for its pristine beaches, crystal-clear waters, and vibrant culture. While hurricane season does bring occasional storms, the region's excellent infrastructure ensures a quick recovery. Take advantage of fewer crowds, discounted rates, and enjoy breathtaking sights like the ancient Mayan ruins of Tulum and the vibrant underwater world of the Great Maya Reef.
2. St. Lucia, Caribbean:
Escape to the tropical paradise of St. Lucia and indulge in its natural beauty during hurricane season. This Caribbean gem offers lush rainforests, stunning waterfalls, and picturesque beaches. Immerse yourselves in the warm local culture, hike the iconic Pitons, and rejuvenate with a couple's massage at one of the island's world-class resorts. While storms may occur, the island's location minimizes the chances of direct hits.
3. Bali, Indonesia:
If you're seeking a truly exotic honeymoon experience, Bali is the answer. This Indonesian island is a haven for honeymooners, offering a perfect blend of spirituality, culture, and natural wonders. While the rainy season coincides with hurricane season, it brings lush green landscapes, vibrant festivals, and incredible surfing opportunities. Explore ancient temples, relax on stunning beaches, and indulge in the island's renowned wellness retreats.
4. Maldives, Indian Ocean:
Dreaming of a honeymoon in paradise? Look no further than the Maldives, where idyllic white-sand beaches, crystal-clear turquoise waters, and luxurious overwater villas await you. While the Maldives experiences occasional storms during hurricane season, the resorts are well-prepared to ensure your safety and comfort. Dive into the mesmerizing underwater world, enjoy romantic sunset cruises, and create unforgettable memories in this tropical oasis.
5. Cape Town, South Africa:
For honeymooners seeking a unique blend of adventure and natural beauty, Cape Town offers an incredible experience during hurricane season. While hurricanes do not directly impact this South African gem, the season brings milder weather and fewer tourists. Explore the iconic Table Mountain, visit the penguins at Boulders Beach, and savor delectable cuisine in the vibrant city center. Don't miss the opportunity to embark on a thrilling safari adventure nearby!
6. Seychelles, Indian Ocean:
Escape to the Seychelles, an archipelago of paradise islands in the Indian Ocean. While the region experiences some rainfall during hurricane season, the islands remain a haven for honeymooners. Picture-perfect beaches, crystal-clear waters, and lush greenery await you. Explore the Vallee de Mai Nature Reserve, island-hop through the stunning archipelago, and unwind in luxurious resorts that cater to your every need.

Embrace the unexpected and embark on a honeymoon adventure like no other during hurricane season. From the stunning beaches of Riviera Maya to the exotic allure of Bali, these destinations offer unique experiences and unforgettable memories for newlyweds. Remember to stay informed about weather conditions and follow the advice of local authorities to ensure a safe and enjoyable trip. Cyndi Morgan, your trusty travel guide, wishes you a blissful honeymoon filled with love, laughter, and beautiful discoveries!